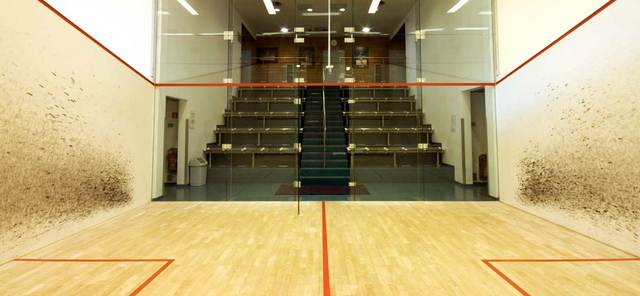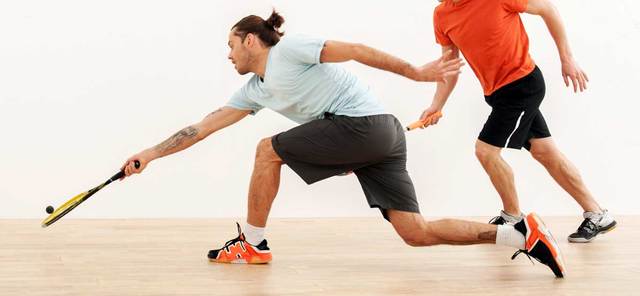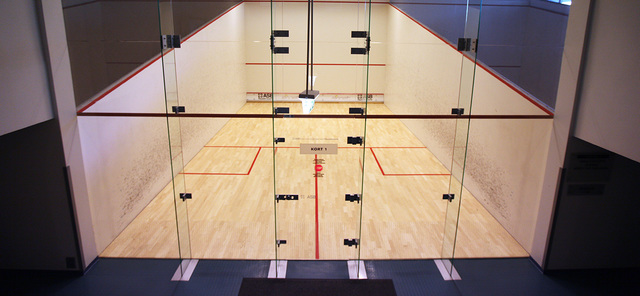 SINNET CLUB OFFERS THREE PROFESSIONAL ASB SQUASH COURTS, WHICH ARE GENERALLY REGARDED AS THE BEST IN THE WORLD. ASB SQUASH COURTS ARE IMPERVIOUS TO THE INFLUENCES OF EXTERNAL FACTORS, SUCH AS TEMPERATURE AND MOISTURE. DUE TO THIS THEY ALWAYS ASSURE APPROPRIATE PLAYING CONDITIONS.
THE MOST IMPORTANT ELEMENT FOR SQUASH, APART FROM THE WALLS, IS A GOOD FLOOR. THE CHARACTERISTICS OF A SQUASH COURT FLOOR ARE VERY PRECISELY SPECIFIED AND DO NOT PERMIT ANY VARIATION OR CHOICE AS IN THE CASE OF TENNIS. ONE OF THE MOST IMPORTANT CHARACTERISTICS OF THE SQUASH FLOORS INSTALLED AT THE SINNET CLUB IS THEIR RESILIENCE, WHICH ASSURES THE APPROPRIATE SAFETY FOR THE PLAYER. COURTS AT THE SINNET CLUB ALSO ASSURE THE APPROPRIATE CONDITIONS FOR PLAYERS I.E. ACOUSTICS, TEMPERATURE, AIR MOISTURE CONTENT, VENTILATION AND LIGHTING.
SIMULTANEOUSLY, SPECTATORS' REQUIREMENTS HAVE NOT BEEN FORGOTTEN. A SPECTATOR STAND HAS BEEN PROVIDED BESIDE THE CENTRAL COURT, WHICH IS CAPABLE OF ACCOMMODATING OVER FIFTY SPECTATORS. SQUASH LEAGUE AND ALSO THE ALL POLAND CHAMPIONSHIP MATCHES HAVE BEEN PLAYED ON THE ASB COURTS IN THE SINNET CLUB UNDER THE AEGIS OF THE POLISH SQUASH FEDERATION.
SINNET CLUB IS APPRECIATED BY THE LEADING POLISH, CZECH AND ENGLISH PLAYERS PREPARING FOR THE MOST IMPORTANT SQUASH EVENTS. WE HAVE HAD THE PLEASURE OF WELCOMING TRAINER CADRES FROM ENGLAND, GERMANY, COLUMBIA, MEXICO AND PAKISTAN.